Meet and greet experiences with celebrities
Ever thought of meeting and talking or interviewing celebrities?? Ever wonder how it is to take an interview or face a celebrity? To engage with them representing yourselves as a brand ambassador or representing yourself as a media person from a reputed market, that kind of confidence to face a celebrity so that she/he can have a good impression of the brand, all this ain't easy and a person like me who is shy and sort of introvert or moody introvert then things get complicated, but then when you overcome hurdles and obstacles life becomes easy. Here I am sharing some of those unexpected moments with you all…
As a child, I always have fantasized Bollywood, like it's so easy to act, dance and being exaggerated all the time… As time passes, I got to know that it's not easy at all, no one can be comfortable with anyone like they show in movies or even in dramas… still, in Pakistani media and Pakistani dramas, things are clean and clear, few are so close to reality that it gives goosebumps, yet to consider the fact of how they have performed, how loud they could have been while shooting it's all a new chapter to share…
When I joined Super Market as a product enlister & content marketer, I didn't know I would get the opportunity of meeting celebrities or will get a chance to take selfies and interview them so closely…
So, one fine day I shared an idea with the team, for engaging bloggers and taking them on board if we can, but to my surprise the response from my team and manager was so good and he started to talk and the following week I got to know that through this brand we are having a celebrity, in our DHA branch. I was super excited to meet her, talk to and interview her as this was my first time and my first experience, which I never thought of…. Cutting the excitements and stuff the final day came, so I prepared a questionnaire for her which included brand awareness and more relevance to the brand because she was coming for brand and activity. I had my teammates with me too who were supporting me.
We visited the branch a bit early so that we could see the space and sitting arrangement. I took a bouquet and a gift with me for her as I was excited too. We had to wait for her as she had her security with her and we all were alert too because yes, she is a celebrity and we need to give extra protection to these people, but lucky me… I got to be with her for 20 mins. She was so down to earth and so comfortable! she hugged me before leaving also she hit me for not taking a right selfie. I got enough time to admire her beauty, to talk and to click some really nice pictures with her…. Omg that day and her mesmerizing chocolate brown eyes, and her style… sweetest celebrity I have ever met.
I met a few others, but I didn't get enough time with them as much as I got with her, so my first experience went so smooth and sooooooo amazing, no ahhhhmaaaziinngggggggg …… sorry my excitement to share with these words stretch… she also answered my questions and it was a proper Q/A type, you can watch on our YouTube Channel the details or clips of that day. Link is attached here:
My second the experience was of a makeup artist, honestly, I never knew she existed or anything about her. when I was told that she was coming I was like who is she… I immediately searched for her details, I was like what questions should I ask her, why is she even coming… I did a little research, I was told she will do free makeovers at our branch, and I was like wow awesome, again my favorite stuff…
The day came and we were there, she was on time, without security because she was a makeup artist that girls might know her but obviously not that huge craze or following. We did our job, we tried engaging our customers, but then since we needed a video, I asked her off-camera, whether she was comfortable for Q/A? to which her answer was no, she wasn't comfortable… I asked why are you here? to promote any specific brand or talking about that brand or what? But to my surprise, her reply was to do free makeovers… I was like okay let's cut the Q/A segment and start with what she wants. I was the first model, and I was super impressed with her makeup skills. after that, we had another customer who became our model for the evening, and that was a wrap… the makeup artist was sweet and her skills were on point, I literally loved it. she did a nude makeup on me and I was admiring her work and the way her hands were moving, I was stunned. Ever since that day, I am following her on social links. before leaving she softly said goodbye, she had an assistant with her, and she was also sweet and humble, not only with us but also with the workers she had with herself… although one mishap happened, why deny that, the ac was okay as per the branch level, but for the artist and for the makeup itself, the temperature was high, or because of the smallest crowd it was high, maybe that's why brides have a special protocol so that the expensive makeup would just not go away…..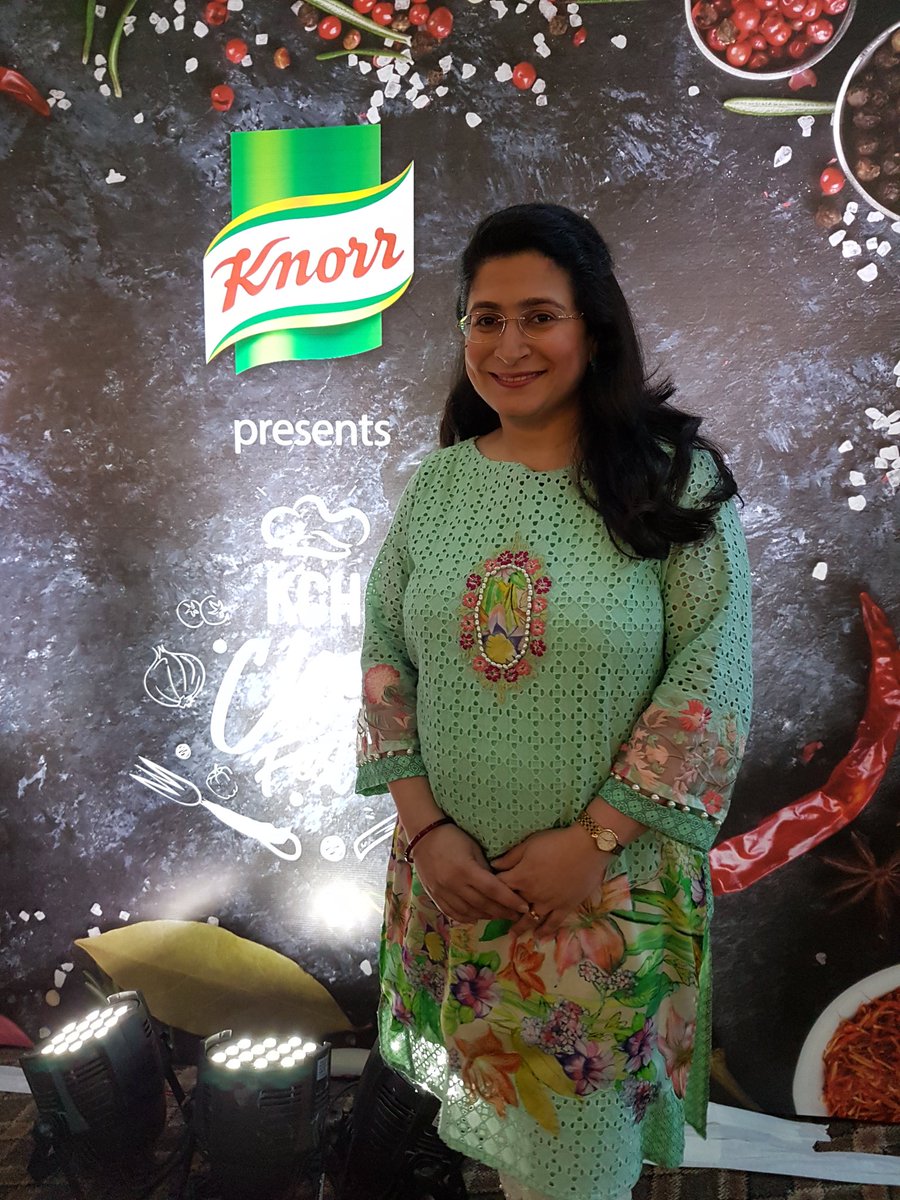 The third the challenge was to face a food expert, there was an activity outside the DHA branch and we had to cover that up along with the chef interview. the chef was extra sweet, just like her recipes (laughs)… So, we had a chit chat along with a small session where she recorded a message, especially for Imtiaz supermarket. That was the sweetest gesture of her… it didn't take much time and it was also a wrap…
The fourth one was very interesting because just recently I have started to follow her on YouTube and Instagram. I have always had the interest to know more about the actor's lifestyle and how they carry so much makeup.
So, I randomly followed this one as well, watched her few videos and got a chance to meet her for real. She was late, and there was something different about this one. I had prepared some questions for her too, but didn't get time to do such stuff… she was busy with her team, she had her own cameraman and team, who were constantly engaging.
She visited and showed all the makeup brands available in DHA branch, then she cut the ribbon and talked about those brands and products as well… it was entertaining because new things were told. Also, she revealed some amazing tips like what a tv actor uses, which brand and which color is famous and most used on every artist in the media industry so it was more of a self-chitchat session… I enjoyed because I got the opportunity to see her up close. Firstly, she had only one tattoo but then I observed she has many, not only on hand but also on her back which was covered with her open hair…
That was the last event attended by me before Ramzan… During Ramzan we had one more celebrity visit our DHA branch for the same reason; brand promotion and meet and greet with few people. due to Ramzan, we were unable to cover the event so we asked the branch and team to look after the event on their own, so I missed the last opportunity of meeting that celebrity….
That's all folks, have you gotten such an opportunity because of your job? Let us know in the comment section below…
Until next time…